18 Wheels of Steel: Haulin 'es un simulador de camiones realizado por SCS Software . Este juego se ejecuta en Windows XP , Windows 98 , Windows ME y Windows Vista . Los usuarios con la versión en caja al por menor debe descargar un parche disponible de forma gratuita en el SCS Software sitio web. Desde entonces, ha sido sustituido por 18 WoS Long Haul americano alrededor de 20 de diciembre 2007.
Esta entrega añade más ciudades y tiene unos gráficos más realistas que los anteriores juegos de los 18 Wheels of Steel de la franquicia. La posibilidad de utilizar bandas sonoras personalizadas y guardar partidas durante el parto también fue agregada. Elige entre 32 equipos, 45 + 47 + cargas y juego de trailers.The no requiere un ordenador muy potente para funcionar razonablemente bien, pero requiere una tarjeta de hasta al día de gráficos (256 MB de RAM, procesador de 1,4 GHz, 128 MB de tarjeta de vídeo ). Prism 3D puede no responder a las antiguas tarjetas gráficas resultantes en un accidente de juego en el inicio del juego.
Camiones
Todos los camiones en el juego se les dio nombres ficticios en sustitución de sus seres reales, como Frisk ( Ford ), Intrepid ( International Harvester ), Metalhorse ( Mack ), Pacífico ( Peterbilt ), cinética ( Kenworth ), Volcán ( Volvo ), Stormrage ( Sterling ), y el latigazo cervical ( Western Star ). Los nombres que figuran a continuación son los nombres de la vida real de cada camión.
Ford Camiones CLT9000
Camiones Freightliner Classic, Colombia, sueño de Columbia, Coronado, Argosy, Clase siglo
Navistar International 8600, 8600-cama, 9200, 9300 Eagle, 9400, 9900
Mack Trucks 613, Visión
Peterbilt 320, 351, 357, 362, 379, 385, 387
Kenworth K100, T600, T800, T2000, W900
Volvo VN770
Camiones Sterling 9513
Western Star 4900, 4900 EX, 6900 XD
–
Requisitos técnicos:
Para utilizar 18 Wheels of Steel necesitas:
Sistema operativo: Win2000/XP/Vista
Requisitos mínimos:
Procesador: 1,4 GHz
Memoria: 256 MB
Vídeo: 64 MB
DirectX 9.0
Requisitos recomendados:
Procesador: 2,4 GHz
Memoria: 512 MB
Vídeo: 128 MB
DirectX 9.0c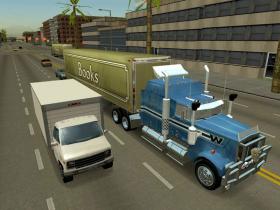 1 link de 120.21mb

http://www.mediafire.com/?4dti99e27554l0o
Traduccion Al español
1 link de 674 kb :p jaja
http://www.mediafire.com/?s1twsdwiwl3ivt1
IMPORTANTE
Para ponerlo a español:
-Descomprimimos el archivo
-Abrimos la carpeta y copiamos lo que esta adentro
– Vamos a mis documentos-18 WoS Haulin-mod pegamos el archivo aqui y listo para jugar en español
Comentar no cuesta nd :p, espero les sirva.