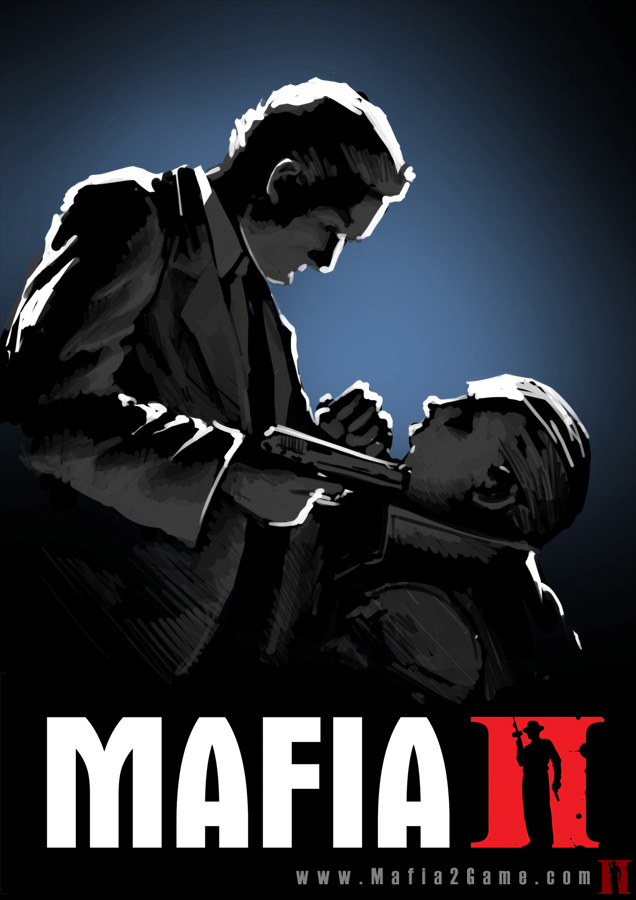 SIPNOSIS
En la era dorada de la década de 1950, el sueño americano parece estar más cerca de algunos que de otros. Vito, el hijo de un inmigrante italiano pobre, desea deshacerse de las ataduras de la pobreza que lo ha limitado durante toda su vida. Ya con mucha práctica en el delito menor, empieza a aspirar a un arte criminal mayor: el crimen organizado. Atraídos por la riqueza y el poder de los lazos con la Mafia, Vito y su amigo de la infancia Joe se encontrarán sumergiéndose aún más dentro del control de la Mafia a medida que luchan para ser reconocidos en las calles de una ciudad implacable, o morir en el intento.
Mafia II lo sumerge en un mundo repleto de violencia e intriga. En está continuación de la intensa Mafia, el mundo oscuro e implacable de la mafia cobra vida con un poder narrativo estilo película de gángsters. Ábrase camino a la cima del bajo mundo criminal a medida que participe en impresionantes tiroteos entre autos, un duro combate mano a mano y en un juego de armas intenso. Con un guión del equipo de autores de la Mafia original y una banda sonora llena de música que evoca la ambientación de 1950 del juego, Mafia II lo sumerge completamente en la experiencia de la mafia en toda su brutalidad e ineludibilidad.
link:
http://www.youtube.com/watch?v=g6UZCUjYyP4
Mínimos:
– Sistema Operativo: XP/Vista/7
– MicroProcesador: Pentium 3Ghz o Athlon 3600+ (Dual core)
– Memoria: 1.5 GB de RAM
– Tarjeta Gráfica: nVidia GeForce 8600 o ATI HD2600 Pro
– Espacio en Disco Duro: 8 GB
Recomendados:
– Sistema Operativo: XP/Vista/7
– MicroProcesador: Quad Core 2,4 Ghz
– Memoria: 2 GB de RAM
– Tarjeta Gráfica: nVidia GeForce 9800 GTX o ATI Radeon HD 3870
– Espacio en Disco Duro: 10 GB
Carpeta contenedora:http://www.mediafire.com/?zk208qshu8tun
PASS:
softvnn.com
Assassin's creed Español
MINIMOS:
* Windows XP, Vista, 7.
* 2 GB RAM (Con 1GB de RAM tambien se puede jugar pero hay que bajarle las graficas un poco y no tener en lo posible muchas cosas abiertas, pronto subire un post sobre com liberar memoria mucha memoria ram con un Click si kieres pudes verlo)
* Dual core processor (Intel Pentium D or better)
* 256MB Direct3D 10 compatible video card, or Direct3D 9 card compatible with Shader Model 3.0 or higher
* DirectX compatible driver
* DVD-ROM dual-layer drive
* 16 GB free hard disk space
* DirectX libraries (included)
* Vista compatible sound card
* Keyboard, Mouse
RECOMENDADOS:
* Intel Pentium Core 2 Duo, or better processor
* 3 GB System RAM
* ATI HD2900 series, Nvidia GeForce 8800 series, or better video card
* 5.1 sound card
* Microsoft Xbox 360 controller
* Asi les tiene que andar de una
Tarjetas gráficas soportadas:
* DirectX10 compatible cards, recommended ATI HD2900 series, Nvidia GeForce 8800 series
* Direct3D 9 card compatible with Shader Model 3.0 or higher
LINK:http://www.mediafire.com/?530bdmk602r7v
DLC
http://www.mediafire.com/download.php?4s41gy3nwcia45y
SIPNOSIS
Crysis es un videojuego de disparos en primera persona de ciencia ficción desarrollado por la empresa alemana Crytek y distribuido por Electronic Arts. Fue publicado el 16 de noviembre de 2007 en Europa. Fue un éxito para la crítica y acaudaló un gran número de premios en distintas ferias y eventos. Utiliza el motor de videojuego CryEngine 2 desarrollado por la misma Crytek. Es el primero de una trilogía. Posteriormente se publicó Crysis Warhead que se caracteriza por tener lugar en el mismo escenario y momento que Crysis, pero representado desde el punto de vista de otro personaje. El 5 de mayo de 2009 se realizó la edición de coleccionista Crysis Maximum Edition que incluye Crysis, Crysis Warhead y una expansión multijugador que se llama Crysis Wars. Crysis se hizo particularmente famoso por tener unos requisitos mínimos muy exigentes. El 25 de marzo de 2011, fue publicada la secuela Crysis 2 para PC, PlayStation 3 y Xbox 360.
Probado en :
Windows xp 3.6 ghz
Ram : 2.0gb
Tarjeta de video: via crome 9 hc igp
LINK:
http://www.mediafire.com/?ge5t7lhrwrxta
http://www.mediafire.com/?s9nxbx31dfxbri5
PASS:
www.gamehousevn.com
PARCHE 1.2:
http://www.gamershell.com/news/46299.html
SIPNOSIS
Año 2023. Los alienígenas escogen Manhattan como principal foco de un nuevo ataque masivo sobre nuestro planeta. Bajo este argumento se desarrolla la secuela del genial FPS desarrollado por CryTek, que en esta ocasión estrena la versión 3.0 del poderoso motor gráfico CryEngine para llegar tanto a PC como a Xbox 360 y PS3.
Mínimos:
MicroProcesador: Intel Core 2 Duo/AMD Athlon 64 X2 2GHz o superior
Tarjeta Gráfica: Nvidia 8800 GT o superior
Memoria: 2 GB RAM
Sistema Operativo: Windows XP/Vista/7
Espacio Libre en Disco Duro: 9 GB
Conexión a Internet
Videojuego: http://www.mediafire.com/?cdee16l4b9rj8
Crack: http://www.mediafire.com/download.php?rwfhljo1wy9g77r
Contraseña para descomprimir: newton3000