TITAN MU Season 6 episodio 3
This Server Has People That Speak English And Spanish
Este Servidor Tiene Gente Que Habla Ingles y Español
Version: Season 6 Episode 3

(la imagen es de el episodio anterior)
Web: www.titanmu.biz
Experience: 9999x
Drop Rate: 80%
Bless bug: Off
Max LVL: 800
MonsterHp: 100%
Max Stats: 65000
Points Per Level: 20/20/25
Reset: Not reset stats, inventory.
Guild Create Level: 200
Character Reset Level: 400
Jewel of Bless success rate: 100%
Jewel of Soul success rate
+luck = 100%)
Jewel of Life success rate: 100%
Jewel of Creation
Jewel of Harmony
Jewel of Guardian
Jewel of Chaos
Jewel of Luck
Jewel of Level
Jewel of Excellent
Jewel of Option
Jewel of Socket
In Shops
Weapons Excellents: Skill+Luck+Option+Mana+9
Sets Execellents: Luck+Drop+15
Jewells
Quests
Wings Lvl 1, 2 , 3, 4
Box of Kundums +1, +2, +3, +4, +5
Satan, Guardian, Panda, Skeleton, Rudolf And Unircorn Pets
All The Tickets For The Events

Events
Blood Castle Event
Chaos Castle Event
Devil Square Event
Sky Event
Illusion Temple Event
La Cleon Event
Refinery Event
Golden Invasion Event
Dragon Invasion Event
Kalima Event
White Wizard Event
Loren Deep Event
Double Goer Event
Fortress Of Imperial Event
Halloween Event
Santa Village Event
Crywolf Event
Cherry Blossom Event
Swamp of Peace Event
Moss Merchant Event
Castle Siege Event
Gens Battle
Battle Soccer
Guilds War
Chocolate Box
Chaos Machine
Chaos Success Rate Level +10 Normal/VIP = 85%/100%
Chaos Success Rate Level +11 Normal/VIP = 85%/100%
Chaos Success Rate Level +12 Normal/VIP = 85%/100%
Chaos Success Rate Level +13 Normal/VIP = 85%/100%
Chaos Success Rate Level +14 Normal/VIP = 85%/100%
Chaos Success Rate Level +15 Normal/VIP = 85%/100%
Wings Mix LVL 1 Rate Normal/VIP = 85%/100%
Wings Mix LVL 2 Rate Normal/VIP = 85%/100%
Wings Mix LVL 3 Rate Normal/VIP = 85%/100%
link:
http://www.youtube.com/watch?v=uxD2my4xSDU
este video es una muestra de lo que tiene este mu! en si estan casi todas esas cosas q ven!!
In Game Commands

Add Agility: /addagi
Add Strength: /addstr
Add Vitality: /addvit
Add Energy: /addene
Add Commands: /addcmd
Send Public Message: /post
Clear PK Status: /pkclear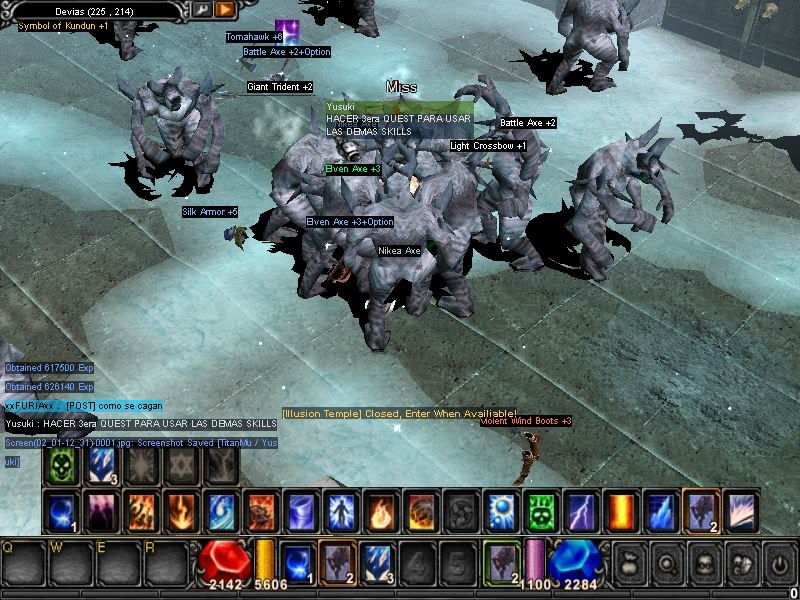 Server Specifications

CPU: AMD Athlon II x4 605e Processor 2.3GHz
RAM: 16GB
Port /bandwidth: 100 Mbit/s port
Host Location: USA, East coast.
Powered by:
DmN MuWebshop 1.3
DmN MuWebsite
TitansTech.com Server files
Let's Go Try And Play This Mu And Invite Your Friends To Play.You Will Not Regeret You.
Vamos Intenta y Juega Este Mu E Invita Tus Amigos A Jugar. Tu No te Vas Arrepentir.